GREENSOUNDS installation
The music and video parts of the GREENSOUNDS are managed by several computer-controlled software. The computer calculates musical sequences with a duration of 6 minutes that are played in real time. At the end of a sequence a new sequence is calculated and played after a delay of several seconds. A sequence consists of a compositional strategy (type of sound, type of musical organization, type of spatiality ...) whose sonic result is played immediately on 6 laoudspeakers. Each sequence has two modes (mode A and mode B). The installation operates independently or interactively. In the interactive case, up to five musical and spatial parameters can be controlled by the user. These parameters are numerous and their meaning varies according to the sequences. They are organized in two groups blue and purple. A visual echo of the controlled parameters appears on the projection screen of the video as sliders with their names and their values as shown in the picture below: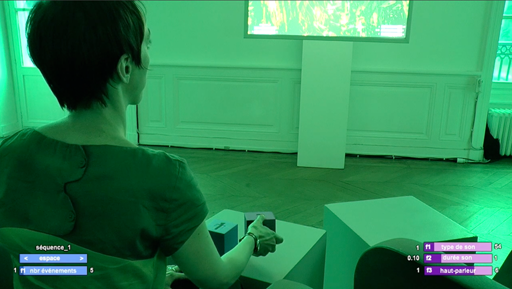 Representation of parameters monitored on the projection screen (sensor version).
Greensounds for smartphone
The application greensounds allows users to take control of GREENSOUNDS' installation in real time by using their own smartphone.
User management is as follows:
If no user launches the greensounds application, sequences succeed each other in an autonomous way.
If a user launches the greensounds application he can monitor the progress of the music with the computer and the computer stops playing as soon as the user play and restart when the user does not play.
Communication between Computer and Smartphone is running via WiFi.
The presence of multiple users is managed through a queue.
A message WAIT will be delivered to the user on pending. Pending users will be allowed to play in turn.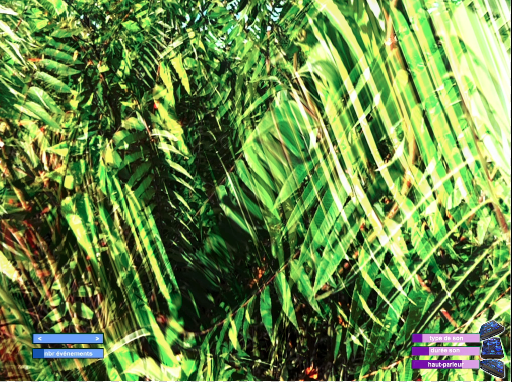 Representation of parameters monitored on the projection screen (smartphone version).
Interactive control
The interface of the greensounds application allows real time control of up to 5 parameters of GREENSOUNDS' application according the type of sequence in progress
The name and values of the monitored parameters are displayed on the video display screen:

These representations (blue and purple) match the 'greensounds' application interface: