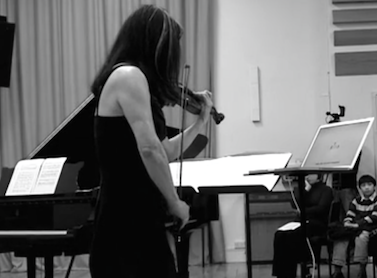 Loading Map….
29 avril 2013
Partitions dynamiques pour musiques interactives
Conférence
Université Jean Monnet / Saint-Etienne (42)
Alors que les technologies informatiques ont révolutionné les manières de concevoir et de produire la musique, de manière paradoxale, l'informatique musicale est resté très classique dans son approche de la notation musicale et fournit un support assez limité aux nouvelles formes de création. Il y a notamment un fossé important entre les musiques interactives et la manière dont elles représentées ; les nouvelles technologies permettent d'interagir en temps réel avec des processus musicaux mais la dimension symbolique de la musique est généralement exclue de l'interaction. Cette conférence traitera de cette problématique et présentera notamment des musiques interactives qui mettent en oeuvre des partitions dynamiques.
Lieu :
UJM – Saint Etienne
salle du conseil bâtiment G
33 rue du Onze Novembre – Saint-Etienne
Tramway : ligne T3 arrêt Campus Trefilerie
Entrée libre dans la limite des places disponibles.
Les communications seront en anglais.
Conférence organisée dans le cadre du projet INEDIT, projet ANR-12-CORD-0009-03
Conférenciers invités
Dominique Fober
Chercheur à Grame, Centre National de Création Musicale situé à Lyon. Il est l'auteur ou co-auteur de nombreux logiciels musicaux, notamment dans le domaine de la pédagogie musicale. Ses travaux de recherche portent sur les systèmes et architecture temps réels pour la musique, sur la représentation et la notation musicale, et sur les applications de l'informatique musicale dans le domaine de la pédagogie. Il a participé à des programmes de recherche européens visant à développer des systèmes pour la pratique instrumentale. Il travaille également sur l'extension de la partition musicale, dans une approche qui vise à la fois les besoins de la création contemporaine et de la pédagogie de la musique. Il est l'auteur du logiciel INScore qui met en oeuvre les résultats de ces travaux..
Plus d'information…
Sandeep Bhagwati
Indian-German composer of mostly stage, chamber and multimedia works that have been performed worldwide; he is also active as a conductor, theatre director, university researcher, curator, performer, visual artist and writer. Bhagwati studied Composition with Edison Denisov and Boguslaw Schäffer and Conducting with Kurt Prestel at the Salzburg Mozarteum from 1984-87 and Composition with Wilhelm Killmayer at the Musikhochschule Munich from 1987-90, where he graduated with distinction. 1995-96 Cursus annuel de Composition et Informatique Musicale, IRCAM, Paris, where he encountered Brian Ferneyhough and Tristan Murail. Among his numerous honors are the European Composition Prize from the Academy of Arts Berlin (1991, for Variations) and the Ernst-von-Siemens-Förderpreis (1992, 2003).
As a writer, Sandeep Bhagwati has written many articles for European and Indian publications. He is also a regular contributor of music programs to German public-radio stations. As a performer, he has often participated in many aspects of his own installation-performances, and has also designed and redefined concert spaces for his site-specific works and, as a stage director, has directed several plays, music theatres and performance events. As a conductor, he has mainly led performances of his own work.
He served as artistic director of the concert series Kammer-Musik-Utopien in Munich in 1989-90 and with Moritz Eggert, he co-founded the biannual new music festival A•DEvantgarde in Munich in 1991 and served as its artistic director from 1991-95. He also assisted Hans Werner Henze and Gerd Kühr with workshops at the Münchener Biennale from 1992-94 and founded the festival KlAngRiffe – Festival for Risky Music in Karlsruhe in 2003. With Gauri Tripathi and the Ondine Ensemble, he gave composition and dance workshops for children in London in 1993 and 1997. He led zukunft@bphil composition workshops for Simon Rattle and the Berlin Philharmonic Orchestra in 2004/2005. He has served as the curator of contemporaryXchange since 2001, a project of Ensemble Modern and the Haus der Kulturen der Welt in Berlin, which promotes the creative exchange of Indian musicians and new music and has been highlighted at festivals throughout Europe and India, most recently at the Concertgebouw Amsterdam in 2008. In addition, he served as the curator of the festival Rasalîla-Spiel der Gefühle in Berlin in 2003, which featured the results of this exchange process, as well as newly-commissioned works by composers of the Indian diaspora. Since 2006, he is Canada Research Chair for Inter-X Art at Concordia University Montréal where he directs matralab, a research node for interdisciplinary, intercultural, intermedia art. He taught as Professor für Komposition und Multimedia at the Musikhochschule Karlsruhe from 2000-2003. He also taught as a visiting professor of electronic music at the Institut für Elektronische Musik of the Universität Graz in 1998.
Plus d'information…
Michal Seta
Michal Seta, as software developer at the Society for Arts and Technology [SAT] and research assistant at matralab Montreal, enjoys creating digital tools for artistic expression. As composer/improviser and digital artist, he is member of the networked performance collective Melatab from the [SAT], a co-founding member of the electroacoustic improvisation trio No One Receiving (Grain of Sound label), and the other half of the spoken word and electroacoustic improvisation duo UniSecs. His works have been exhibited in Europe, USA and Canada.
Plus d'information…
Richard Hoadley
In recent years Richard Hoadley has focused on the role of technology in musical composition and performance. This includes the implementation of physical interfaces along with algorithmic software to generate original compositions. He has developed a number of devices including the 'Gaggle', the 'Metapiano' and 'Threads': bespoke systems designed to investigate and facilitate physical interactions with musically expressive algorithms for installations, performances (including dance) and therapeutic environments. In compositions such as 'Calder's Violin' he has developed methods for the live presentation of algorithmically generated notation, an approach he has developed further in new pieces such as 'The Fluxus Tree' in which the movement of dancers generates music notation which is in turn performed live by an instrumentalist. Data acquisition is performed using Arduino and mbed microprocessors, audio programming is in SuperCollider which also, through Open Sound Control, directs the music notation generated using INScore. His music, both instrumental and electronic, and research have been presented worldwide and include performances by the BBC Symphony Orchestra and Singers. He is affiliated with the Digital Performance Laboratory at Anglia Ruskin University.
Plus d'information…
Joachim Heintz
After studying Literature and Art History, began his composition studies with Younghi Pagh-Paan and Guenter Steinke in Bremen in 1995 at the Hochschule Fuer Kuenste. During the course of his studies in Bremen, he worked intensively in the electronic music field and also with mixed media such as video.  He is the head of the electronic studio Incontri at the HMTM in Hannover (Hanover University of Music, Drama and Media), teaches Audio-Programming at the HfK Bremen and is a member of the Theater der Versammlung in Bremen. He composes both for instruments and electronics, for concerts, sound installations and as theatre music. Related to software, he is an active in particular in the development and documentation of Csound and CsoundQt.
Plus d'information…
Jean-Baptiste Barrière
Après des études en musique, histoire de l'art, logique mathématique et un doctorat en philosophie, Jean-Baptiste Barrière exerce à l'Ircam diverses fonctions entre 1981 et 1997, dont celle de compositeur chercheur autour de la synthèse de la voix chantée et du contrôle de la synthèse. À partir de 1998, il se consacre entièrement à la création. Très engagé dans l'exploration des relations croisées entre musique et image, il réalise la partie sonore de nombreuses installations de réalité virtuelle comme Le messager (1994), Emotion vending machine (2006), et compose pour des spectacles multimédia et concerts visuels dont 100 objects to represent the world (1997), Violance (2003), Les fantômes du temps (2003) et Deux songes de Maeterlinck d'après Bruegel (2007).
Plus d'information…
Tarif(s) : Entrée libre dans la limite des places disponibles.
Réservation : 04 72 07 37 00
Adresse
Université Jean Monnet
2 Rue Tréfilerie
42100 Saint-Etienne
France